Lets continue the progress with the master bedroom shall we?
Since this is gradual I'll try and make sure you haven't missed anything. This is the room when it was green, but we had our new bedding
This is after the paint job. PS- Nimbus Cloud by Martha Stewart
I found this bar cart on the side of the street one day. A woman right down the street was moving to California, she was giving her stuff away willingly, I didn't have a place for this...but I thought it was unique enough to take home
It was a real orange kind of wood color
Macaroni is a very loyal dog, he sits and watches me paint, he also loves getting into the pictures
The bar cart has pretty little caster feet, and it actually moves really easily too
A little less than a month ago when I was shopping in Home Depot for my bedroom paint color I came across this color in the Oops section. I had already decided to go with grey for the room, but I thought this blue was just too beautiful to not take home. Its kind of dark and moody and is just divine.
I decided with $7 oops paint and a free piece of furniture, why shouldn't I do something a little different? So I painted the tray parts white, and the rest blue.
I've been a big fan of chevron for a long time now, and despite the fact that its been done to death, I'm so not over it. I went with a chevronish pattern, but with a little twist, because why not?
And I did the bottom too, I didn't attempt to line them up, or make them perfect. As you can see on the bottom there is that neat little side tray to the left, I decided to not add the white paint or tape there.
And then I painted over the tray with blue, and took off the tape. In this picture you can see the white is coming up on the lip of the tray, and parts of the wood hasn't been painted. I decided I wanted the whole lip to be blue. So the only white parts would be on the actual tray.
And here it is when its complete.
Since we removed the bookcase on the other side of the bed, my husband needed a side table. This was in my attic, and its nice and slim so it fits in that spot.
I like mismatching furniture, its very chic. But...I wanted it to be cohesive. So I painted it too. But no chevron or stripes or craziness, just painted it.
So here is the new picture of the room. I still need to accessorize the table, and I think I need new lamps and finish the rest of the room, but decorating doesn't happen all in one day.
Last week someone commented on my blog that they love that I am real, that I show the process and don't act like it all happens overnight, because sometimes when all you see is the before and after, its disheartening. Where were all the middle steps...how did you get from point A to point Z?
So I'm happy to tell you that I'm documenting all the little milestones this room has. So far I'm really excited about how its turning out. This room is shaping up to be decorated differently from the rest of my house, and I'm enjoying that.
I'm linking up to: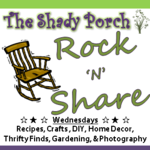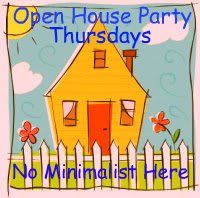 Is it more fun to just see the before & after...or more fun when you can see it happen a little bit at a time over a relatively short period of time?
---Because lets be honest, no one wants to wait months or years to see a big reveal!
Have you seen my giveaway yet?
here
to enter