This is me (Jen) my husand and my daughter
Our daughter - Kennedy Winter
Our angel dog Macaroni. He'll be 3 next month and he weighs a little less than 4lbs
Now the house tour! This year it was all about simple beauty. Since we have a one year old, I wanted our home to feel festive, but I wanted things to be out of the way so I didnt have to say NO NO NO all day long. I did a few projects, but everything was super easy, cheap and fun.
I'm a new blogger, so any comments/feedback and follows are great appreciated. Cant wait to see all of your homes too.
1. Branch from the yard spray painted silver
2. Add fishing line to dollar store balls and dollar store snowflakes
Theres something magical about the reflection in the glass with the glitter
I used some frames I already had, added vintage paper, and some of the dollar store snowflakes.
So easy.
I dont love a crazy cluttered kitchen, but I love the pop of color and the symmetry that the pointsettas bring.
Our dining room is a hardworking room, we added some garland above the bookcases, so it feels festive, but doesnt get in the way of living
Outside we added garland all along the porch, and some wreaths
I added some glass balls, pinecones, and cinnamon sticks to containers on the deck
I hope you all enjoyed. I'm just starting out, so please follow and comment, so I can check out your blogs too!!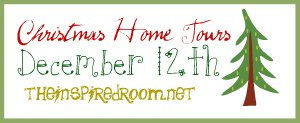 I'm also linking up
http://www.jenniferrizzo.com